Webinar: Coronavirus: managing a workforce in Eurasia in challenging times (Russia, Ukraine, Belarus and Kazakhstan)
15 May 2020
Dear Ladies and Gentlemen,

AEQUITAS jointly with Ius LaborisALRUD (Russia), Vasil Kisil & Partners (Ukraine), COBALT (Belarus) are honored to invite you to our international webinar dedicated to the practical realities of managing a workforce in the Eurasian countries in the current crisis and the latest government initiatives in Russia, Ukraine, Belarus and Kazakhstan.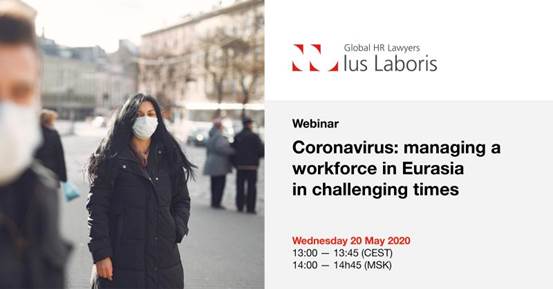 The coronavirus crisis is taking a financial toll on many companies, and governments are stepping in to support them and their employees. The webinar will cover the following topics:
Regional lockdown and other restrictions (prohibited and permitted activities)
Health & safety requirements
Employers' obligations and workforce management
Government support schemes for employers and employees
What of the future?
It will be a pleasure for us if you join our webinar!
_____________________________________________________________________________